The Honourable Tony Clement, President of the Treasury Board, recently spoke about the Government of Canada's first national appathon, the Canadian Open Data Experience (CODE), to students and data enthusiasts at Wilfrid Laurier University and the University of Waterloo.
"Our Government is promoting and supporting CODE to encourage entrepreneurial innovation that leads to the start-up of new business, economic expansion and job creation," said Minister Clement. "Innovations like the apps created at CODE will ensure Canada remains at the forefront of the global Open Data movement."
The Canadian Open Data Experience will appeal to innovators, students, technology experts and developers, who will be challenged to use and explore roughly 200,000 datasets on data.gc.ca, the Government of Canada's Open Data Portal. The contest will take place next February, and will encourage participants to create apps that solve real world problems for the benefit of Canadians.
Continue Reading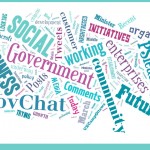 Seems just about everyone is trying to decide what government needs to be in its' next iteration and what parts social media in all of it's flavours can play in that future state.
Here in Canada initiatives like Blueprint 2020 appropriately hashtagged as #GC2020 are underway tweeting through @BlueprintGC2020
In parallel, looking specifically at social media, the first step was release of the Treasury Board Guidelines unveiled by Minister Tony Clement at our PSengage 2011 event. And today initiatives like the Deputy Minister Committee on Social Media and Policy Development which you can follow @DM_SMPD are beginning to formally plan and move forward.
At the grassroots level informal groups such as #w2p have been working (and playing) hard for years to establish the initial bottom up groundswell among public servants as a key driver for the coming transition. Even the design and customer experience community has been part of this rising wave since 2010 with UXCampOttawa aka @UXCampOttawa and hashtagged as #uxott.
Continue Reading